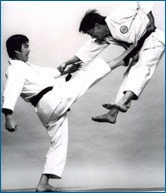 OUR CHEIF INSTRUCTOR
Jonathan Kwok Hanshi ( 8 Dan )
Started martial arts training in 1966 at the age of 14 in Hung Kar style of Chinese kung fu.In 1970, started training in Shotokan Karate with KUGB organization in England, and has been teaching karate since 1973.Was appointed Chief Instructor of South-East Asia by Kanazawa Soke from 1988-1995. Traveled extensivelyteachingkarateinIndia,Sri Lanka,Pakistan,Philippines,Australia, andtheUnited States.Presently holding8thDan in Shotokan Karate-Do InternationalFederation.
1971 2nd Place–Team Kumite in West England karate Championship in Exeter, England
1984 1st Place–Team Kata in Traditional Karate Tournament in Las Vegas, Nev.,USA
1984 1st Place–Individual Kumite in USKI, Invitational Karate Tournament in Pomoma, Calif.,USA
1985 1st Place–Individual Kumite and Kata in Hong Kong and Macau Championship in Hong Kong, China 1994 3rd Place–Individual Kumite, V eteran group in the SKIF World Championship in Y okohama, Japan 1993HeadcoachforHongKongteamin the1st AUKOKarateChampionshipsinTaipei,Taiwan 1988-1995 Chief Instructor of Southeast Asia
1991-1995 General Secretary of SKIF Y udansha-Kai
1993-1995 General Secretary of Hong Kong Amateur Karate Association
In early 2000 by order of Kanazawa Soke he became SKI-US Federation Chief Instructor.